A favorite time of year for many is wintertime with its holiday cheer.
The scent of pine, decorations adorn homes big and small.
Outside
colorful lights, and blankets of snow...
But wait! There's a dude jogging in Chicago
without a shirt in the rain it's so gosh darn warm.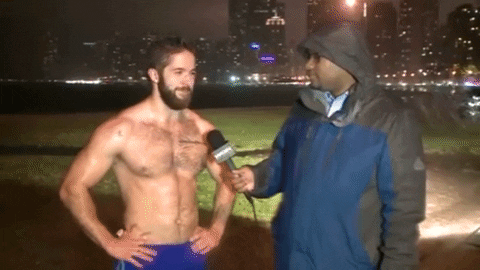 Some say its El Nino.
Is this Christmas TOO HOT TO HANDLE?
Never
Say
Never!
Rain or shine, snow or sun Christmas cheer is in our hearts.
Peace and joy isn't about the weather.
BUT I'll tell what is hot enough to peel paint,
this cowboy.
Rod McLemore and
he's coming to town Jan 12.
Welcome to the Jingle Book Blog Hop Y'all!
Thank you for stopping by...
and the question must be answered for a chance to win.
Read the excerpt and you decide.
~TOO HOT TO HANDLE EXCERPT~
With nix to lose, I rose without breaking eye contact with the little minx, and walked a direct line over to her. Any second, I considered I might get to the door and have it slammed in my face. But from the way this girl held her ground, I reconsidered; any other woman sure, but not her.
Now, I was near enough to stare down in her dark eyes that weren't brown, but a deep smoky blue. An electric connection surged between us. Serious voltage like a mule kick to my chest. As we stared into each other's eyes, I absorbed the novel sensation that I was speechless. A lifetime of glib comments had decided to pack up and head for the hills.
"Is there something I can do for you?" she asked. "You keep staring at me like you've got a problem."
Her spitfire tone jump-started the faulty wiring in my head. "Sweetheart, the only issue I've got is I don't know your name. And, I don't have your number."
Soooo, is this cowboy TOO HOT TO HANDLE?
If you'd like to win a copy of Too Hot To Handle,
Book # 9 (can be read as a stand alone) of the bestselling Bad Boys series along with a $5.00 Amazon gift card,
comment below with your answer to is ROD McLEMORE is TOO HOT TO HANDLE?
And of course, enter the Rafflecopter, keep hopping,
and Merry Christmas.
#JingleBookBlogHop
a Rafflecopter giveaway